Residence Permit in Greece
Greece residence permit on financial independence or purchase of real estate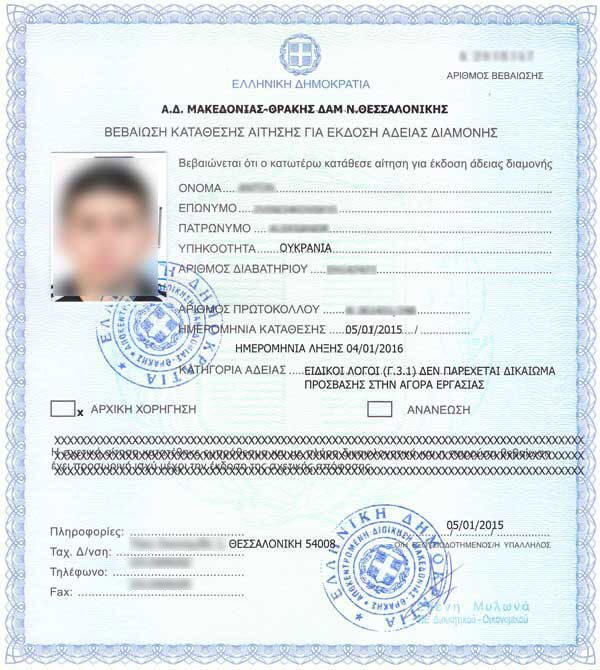 Today, Greece government is seeking to attract the maximum amount of investment in the economy. On April 1, 2014 have been made some changes in the "Code of immigration" that make it easier to non-residents obtain a residence permit (permit) in Greece due to financial independence or purchase of real estate. Thus, foreign citizens will be able to stay in Greece and move freely within the Schengen zone.
Grounds for obtaining a residence permit
The residence permit is granted for a period of 5 years, provided that the foreigner owns one or several properties in Greece totaling at least 250,000 Euros.
Together with the applicant, the documents for a residence permit may file a spouse of a foreigner, their minor (including children under their custody) children and those being cared for. (Please, refer to our office and get a detailed legal advice)
Legal assistance in obtaining a residence permit
Transaction about renting or buying residence or business does not automatically acquire a residence permit. Our specialists of Attorneys at Law "Iakovidis and Partners" will help you successfully pass all stages of the bureaucratic procedures.
Our Russian-speaking lawyer in Greece will gather and prepare complete set of documents (including certificate of insurance), will submit documents to the Management of Migration in Greece. Once the identity of the applicant will be verified, the decision on granting the status of a resident will be made. Besides, we are ready to provide notary services in Greece at any stage of the proceedings relating to the purchase of real estate or obtaining a residence permit.
By cooperating with our Attorneys at Law, you can get not only advice but also a comprehensive legal assistance:
private lawyer support when filing documents, including without the presence of the concerned person;
organizational assistance with filling of certificate of insurance, opening a bank account, etc.;
representation in relevant state agencies in Greece, as well as to the third parties;
legal assistance during transactions, as well as tax deductions in Greece.
When obtaining a residence permit in Greece, the foreigner is obliged to declare the place of residence.
At the end of validity, obtained residence permit is necessary to "prolong", i.e. register in the Management of Migration in Greece during the 60 days prior to the expiration of the residence permit, otherwise Management of Migration in Greece may impose a fine. (Please, refer to our office and get a detailed legal advice)
At the end of validity, obtained residence permit is necessary to "prolong", i.e. register in the Management of Migration in Greece during the 60 days prior to the expiration of the residence permit, otherwise Management of Migration in Greece may impose a fine. (Please, refer to our office and get a detailed legal advice)
For obtaining legal advices, please, contact us by phone number: +30 693 46 010 46